Google announced new version of its Android OS 2.2 named 'Froyo' on 20th May 2010. Previous update was 2.1 which was on 12th January, 2010. The latest update offers several improvements and lots of features.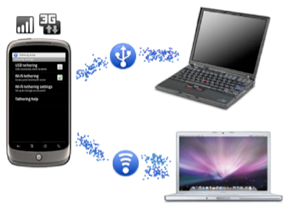 Features of Android 2.2 (Froyo)
The general features like Speed, Memory management and the performance has been improved.
The browser now gets the new V8 Java script engine which is used in Chrome that is much faster.
New to Android? Now there is a "Home screen tip" widget on how to arrange the home screen widgets, shortcuts and using multiple home screens.
Improved Security: If you are a Microsoft Exchange user then access your device remotely and Unlock it, reset factory setting if your mobile have been stolen, Exchange calendars, Auto-complete the Email with Exchange contacts.
Improved Camera Features: Picture Stacks in the gallery, Several buttons added in camera to zoom, Geo-tagging and adjust exposure. Easily adjust video size to send it as MMS or to post it on You-tube.
Now turn your Android device into a portable Wi-Fi hotspot so that up to 8 devices could be connected to internet wirelessly. Connect your Android phone with 3G to a laptop and share the internet .
Change the keyboard input language by just a swipe on space bar. Auto suggestion is also available on several languages.
Other features like voice dialing , contact sharing with other phones and support for car and dock over Bluetooth.
Install application to expandable memory, Adobe Flash 10.1 is now supported.
Android Market place have been updated and auto update feature are included.
Here is the official video demonstrating the changes and improvements in Android 2.2:
These are a lot of updates at one go and still new features for upcoming release "Ginger Bread" such as improved WebM video playback and improved copy paste function expected to release on Q4 of 2010. Some of the unannounced features like FLAC audio playback and Android Market Music store are also expected in next Android OS release. So are you satisfied with these features or need some more features?